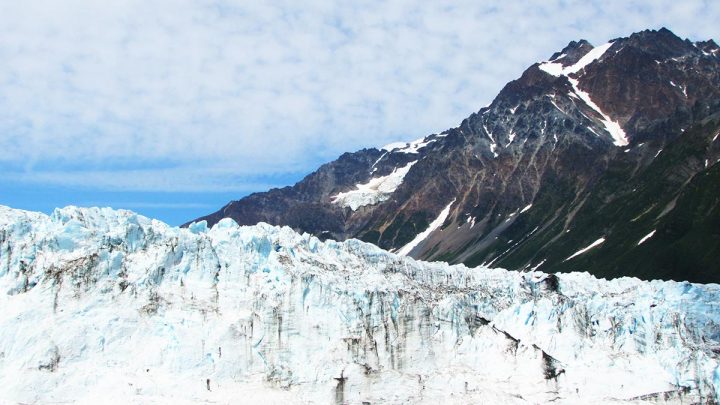 One of the top tourist sites in Alaska, the Childs Glacier is now only accessible by boat. The 56 mile Copper River Highway that leads from Cordova to the Million Dollar Bridge is no longer passable beyond mile 36. There, the Copper River Highway bridge was officially closed November 22, 2011, and may never be repaired. Originally built in 1977, according to the US Forest Service, the bridge was designed to handle 18,500 cubic feet per second (cfs) of flowing water, the wild river at the time of closure exceeded 85,000 cfs.
Our destination that day, the Chugach National Forest picnic and observation area offers stellar views of the Childs Glacier from 3 miles away. This is also the general location of the Alaska Department of Fish and Game sonar station used to monitor (primarily) the sockeye salmon populations from the middle of May through to the end of July. The purpose of this sonar station is to insure that there are adequate numbers of sockeye salmon escaping upstream for sport, personal and subsistence fishing, and to ensure adequate numbers of Copper River salmon are able to reach their spawning grounds 300 miles from the Gulf of Alaska.
An earlier version of this post has been corrected. The Alaska Department of Fish and Game was referred to as the US Fish and Game.