Trying to step more lightly on the earth is a daunting task, but we do believe that small, seemingly insignificant actions can make a major, positive impact. TwoJunes offer up the following four categories of practices/ choices that have either already made it into our daily routine or are gradually being adopted.
Shopping & food choices:
Use your fuel wisely:
Water:
Kitchen clean up:
Related Post: Earth Day in the Kitchen For the Two Junes, making our cooking life more sustainable is an on-going process. Sure, energy and water-efficient appliances are great, but simply modifying daily habits can make a big impact.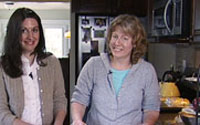 Lisa Bell is a freelance producer, writer and editor. She spent the first fifteen years of her working life as a pastry chef, recipe developer, test kitchen director, food stylist and print editor. She has also taught cooking classes, run a small cooking school, and worked as a food scientist. Nicole Rees currently works as a baking scientist. She is also a food writer and cookbook author specializing in baking science. Her most recent book Baking Unplugged, is filled with simple, scratch recipes that require no electric gadgets beyond an oven.