Here in the kitchen of the TwoJunes, we practice a kind of rough magic on the days we make stock. Our precious "stockpile" of poultry carcasses, limp carrots, slightly wilted celery stalks, withered mushrooms and forlorn parsley stems bubble contentedly in the big pot along with garlic, onion and fresh herbs from the garden. Check out our Stock Day Slideshow. Medieval alchemists toiled fruitlessly to transform base metals into gold, but the kitchen alchemist can achieve brilliant results with humble ingredients and simple techniques. Put the ingredients in the pot, bring to a simmer, then go do something else for 4 or 5 hours while the transformation takes place. Your house will smell wonderful, and once you've tasted difference it can make in your cooking, you'll be hooked.
We wanted to give you two recipes for stock, one meat-based and the other vegetarian. TwoJunes try to eat mindfully. We do eat meat and accept the responsibility to use everything that animal gives, and that includes bones, gristle and fat—not just the choice bits. This Chicken Stock is intensely flavored and collagen-rich due to the long simmering of those bones and connective tissue. So rich, in fact, that you'll need only half as much homemade stock (plus water) if you're used to store-bought broth. Making stock has the added bonus of creating one to two meals for our ecstatic dog (and cats) from the salvaged meat off the bone and delicious chicken-y vegetables. We skim the fat that rises to the top and Lisa has her ways of using that up too—dog treats, for instance. We end up with just a small pile of bones—minimal waste, and maximum food value extracted.
The Many Mushroom Stock recipe evolved as we cook frequently for vegetarian and vegan friends and could not find a commercial vegetable stock we liked. This mushroom stock has depth and rich, "meaty" flavor. "Umami", roughly translated from the Japanese as meaty or savory, is one of the five basic tastes we humans recognize. Given different names in different cultures, this flavor is found in foods such as meat, cheese, and, of course, mushrooms. Dried mushrooms, in addition to being flavor powerhouses, also have healthful properties, with especially promising data linking dried mushroom consumption to lower than average breast cancer rates. After giving not-quite-their-all to the stock, the deliciously plumped dried mushrooms and the mushroom stock are great in all sorts of recipes: in soups galore and as the liquid in risottos, gravies and sauces, etc. The rehydrated mushrooms can be chopped and added to recipes like vegetarian meatloaf or pureed into soups or gravy for added flavor and texture. Lisa's recipe of choice, Mushroom Pasta Cooked Like Risotto, is the comfort food she requests when not feeling well.
Both stocks freeze well for up to 6 months. We suggest freezing in a variety of sizes for different uses: cups, pints, quarts and half gallons to be thawed as needed for soups, sauces and gravies. We'd love to know what kind of stock your kitchens produce…beef, pork, straight-up veggie?
Next week: TwoJunes discuss better living through chemistry: not all food science is bad. Nicole investigates the beneficial properties of prebiotic starches and soluble fiber from gums.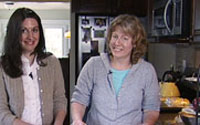 Lisa Bell is a freelance producer, writer and editor. She spent the first fifteen years of her working life as a pastry chef, recipe developer, test kitchen director, food stylist and print editor. She has also taught cooking classes, run a small cooking school, and worked as a food scientist. Nicole Rees currently works as a baking scientist. She is also a food writer and cookbook author specializing in baking science. Her most recent book Baking Unplugged, is filled with simple, scratch recipes that require no electric gadgets beyond an oven.