A great way to slow down, eat sustainably, and build community
Weeknight cooking can be a bit harried, often a game of how fast can you get dinner on the table. In a culture where both children and adults have things to do and places to be Monday through Friday, you can understand why fast cooking recipes dominate magazines and cookbooks.
Sunday Suppers are a great way to balance the weekday hustle by consciously taking back Sunday as a day of rest. Making supper may not sound like rest to you, but if you go back in time to recipes traditional to Sunday Suppers (in England often called a Sunday Roast), they are a lot more restful than you think. Margaret Visser, in The Rituals of Dinner, discusses how the origin of having a simple roast or stew came about in the English speaking commonwealths: Families would set a pot over a low hearth fire Sunday morning as they left for church, which would be finished cooking by the time the family returned home. How hard is that? This is the day to let those dried heirloom beans braise in the oven for hours, or put on a big batch of chili. Then you can go back to reading the paper, putter around in the garden, or even take a nap. This is not labor-intensive cooking.
Many vegetables and cuts of meat have fallen out of the common repertoire of daily cooking because they require slow cooking to be at their best. As a sustainable meat eater, I try to eat as much of the animal as possible. (No, we have not made scrapple or head cheese, but we have made spicy beef tongue tacos.) Increasing the variety of meat cuts you cook with is more sustainable—we can't raise beef just for filet mignon. The hard-working bits of the animal, including the shoulder, lower chest (brisket,) parts of the hindquarter, shanks, and ribs may be tougher, but gentle heat over long hours renders these inexpensive cuts of meat fork-tender and flavorful. The connective tissue breaks down to collagen which eventually melts into the cooking liquid and is reabsorbed into the meat. This makes the meat deliciously moist in addition to creating a rich, silky and flavorful broth or sauce. Root vegetables and hearty greens like collards, escarole or cabbage also shine when braised. Lowly turnips often overlooked during weeknight cooking, turn to pure gold in a stew. You get the idea.
Though we feel great nostalgia for the recipes of our mothers' and grandmothers' generations—beef Stroganoff, sweet and sour brisket, corned beef with cabbage and root vegetables—we continue to try new "slow" meals. This week's Sunday Supper is pozole, a Mexican stew made with pork and hominy. It's a simple dish with few essential ingredients that miraculously turns into the most delectable stew. What makes it over-the- top are the accompaniments, which each person at the table adjusts for themselves. Those items are often a few of the following: Lime wedges, chopped Serrano peppers, thinly sliced crunchy vegetables (cabbage, onions, radishes), crumbled cotija or queso fresco cheese, sour cream, and strips of fried corn tortillas.
We use Sunday Suppers as an opportunity for casual entertaining. It's a great way to relax with friends, because as we've established earlier, there's nothing harried about making this kind of dinner. A lot of folks feel a bit of the blues on Sunday, and sitting down to dinner with friends and family makes the week start on a lighter note—you drift right into Monday with the leftover glow of friendship and community. Oh, and of course your big pot of something will yield leftovers, which is sure to make Monday night just that much easier.
Sunday supper is our strategy for taking life in the slow lane in the company of friends and family—what's yours?
Next week on TwoJunes, June #1, Nicole, uses her insider knowledge to decode the ingredients on a supermarket loaf of sandwich bread.
Related Recipe: Pozole Blanco Recipe There are many different variations of pozole in different regions in Mexico, vegetarian and chicken included. The most famous are pozole verde with tomatillos, pozole rojo with dried chiles and pozole blanco, what we've made here, an intensely flavorful clear pork broth.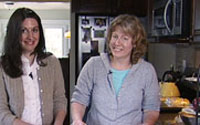 Lisa Bell is a freelance producer, writer and editor. She spent the first fifteen years of her working life as a pastry chef, recipe developer, test kitchen director, food stylist and print editor. She has also taught cooking classes, run a small cooking school, and worked as a food scientist. Nicole Rees currently works as a baking scientist. She is also a food writer and cookbook author specializing in baking science. Her most recent book Baking Unplugged, is filled with simple, scratch recipes that require no electric gadgets beyond an oven.