Nicole Rees and Lisa Bell Go Whole Hog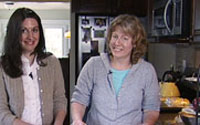 The TwoJunes belong to a supper club with 3 other women here in Portland—we've been meeting once a month for dinner for the past 3 years, rain or shine, without fail. Usually, the menu is appetizer, cocktail, main dish, side dish and dessert—one dish per member with the main dish falling to the host. Since we all tend to go on and on rapturously about the last unbelievable meal with friends and family, we have decided that two times a year, summer and winter, it is only fair to share the bounty. On these two special occasions, each supper club member gets to bring along their spouse AND invite another couple.
Now, the only real rule in supper club is that whatever the dish you bring; you must have never made that recipe before. (Four of us are ex-bakers/pastry chefs and the remaining member is a wonderful, but frustrated home cook with a family of picky eaters.) This allows us all to try new foods, expand our cooking skills and get out of our cooking ruts. I (Lisa B. this week) had wanted to roast a whole pig for the longest time and since I had never done so, this made it a great candidate for a supper club event. I really did seriously consider digging a pit in the back yard, but a friend of one of our members (Thank you, Kevin!), graciously offered the use of his Caja China, a wonderfully clever contraption that efficiently roasts a whole pig in roughly 5 ½ hours! (Find more info on the device as well as recipes and cooking instructions at the Caja China website.) This seemed far more reasonable and far less likely to alarm our neighbors.
So, a few months ago, I began researching where to get a whole small pig here in Portland. Surprisingly, it's not that difficult. Six locations could provide the pig, all relatively close to the same price. Some locations charged extra to butterfly the pig and some provided higher quality pork. I ended up going with local butcher shop that supplied me with a butterflied 60 pound Carlton Farm's pig for $3.25 a pound, or $195 total. I did try a couple of small farm local pork producers, but couldn't find one who had a pig available at this time of year. (If you are out there, small pork farmers, email! I'd love to buy direct.)
I went to pick up my pig on a Friday, in the pickup truck, assuming it would be in box of some sort with ice. But, no! Mr. Pig, as he came to be known, was in a heavy duty clear plastic bag and nothing else. He obviously could not go into the truck bed like that…there was a moment of sheer panic and then the obvious solution popped into my head. He'd go up front with me, safely belted in like the important passenger he was. So, that's how he came home, in style! He fit, barely, into the spare frig in the basement and spent the night there, cooling his little cloven hooves.
I was curious about how I'd react to dealing with the entire animal. I mean, I've done a whole goose before, a whole fish, tongue and organ meats, but a pig is roughly the size and shape of my dog. But, since I do dearly love pork, I thought that at least once in my lifetime I should encounter it the primal form. The report: I was not horrified or grossed out by having Mr. Pig looking back at me. I did have a distinct sense of gratitude, fondness even, and really wanted to do right by him and make his passage a worthwhile celebration. I think our dinner guests shared those feelings.
Saturday morning, Mr. Pig was taken out to be injected with a homemade brine/marinade, Nuevo Mojo Criollo. This was quite an operation, involving a sawhorse set up outside and a really scary syringe. (Be sure the syringe is all the way under the skin, otherwise, the marinade goes into your eye!) The injecting process was probably the most difficult part of the prep as the force required to penetrate pig skin does pretty much make you feel like you could play the lead in a slasher film. Sunday morning around 11a.m. or so, I got Mr. Pig strapped into the grid contraption and safely lowered into the bottom of the Caja China. The Caja China is basically just a metal clad wooden box in which the pig rests over a drip pan and is covered by a metal tray and grate on which a very hot fire is built and maintained with the addition of fresh coals throughout the afternoon. Near the end of the roasting process, when the meat reaches temperature, the coals are lifted away and the pig is flipped so that the top side skin can crisp up. I have to say, the whole process went really smoothly and was not at all hard. The only thing I would do differently next time is to turn Mr. Pig over sooner so that the skin on the top side could crisp up more.
Mr. Pig was presented with great fanfare including sparklers I'd saved for the occasion. He was delicious! The meat literally fell from the bone it was so tender. The guests ate and ate, about half the pig was gratefully consumed that evening along with an enormous variety of wonderful appetizers, sides, home brewed beer, wonderful cocktails and desserts. At the end of the evening, when it was time to put away the food, the remnants of Mr. Pig filled 3 half sheet pans.
Over the course of the next 2 days, during the breakdown and preserving stages, I think I truly became aware of how committed you need to be make use of the whole animal. It was tiring, hot, occasionally a bit gruesome and a little overwhelming (and the house smelled of hot pork fat for days…), but ultimately worth it. We have already made some tacos and a pork terrine with some of the leftovers and anticipate many more delicious meals to come: cassoulet, stews, pulled pork sandwiches, beans with ham hocks, and many more. We are also sharing the stock and demi glace with the supper club and friends. Be sure to check out our slide show of the pig roast and subsequent days of pig preserving work.
In the coming months, TwoJunes will begin posting once a month rather than weekly due to our work and travel schedules.
Next time, Nicole will be exploring the hype around neutraceutical ingredients: are extracts from exotic faraway ingredients like the goji berry or the acai berry worth the fanfare when we have a world of whole healthgiving foods right outside the door?
Lisa Bell is a freelance producer, writer and editor. She spent the first fifteen years of her working life as a pastry chef, recipe developer, test kitchen director, food stylist and print editor. She has also taught cooking classes, run a small cooking school, and worked as a food scientist. Nicole Rees currently works as a baking scientist. She is also a food writer and cookbook author specializing in baking science. Her most recent book Baking Unplugged, is filled with simple, scratch recipes that require no electric gadgets beyond an oven.