Related Recipe: TwoJunes Homemade Dog Food Recipe We started making our dog's food seven years ago, when we first moved to Portland. Stella, a chow-border collie mix, suffered from recurring ear infections. One quart container of food lasts Stella for two days. This recipe makes enough food about 1 month.
We started making our dog's food seven years ago, when we first moved to Portland. Stella, a chow-border collie mix, suffered from recurring ear infections. New in town, we discovered that alternative medicine applied even to pets in Portland, so we brought Stella to naturopathic veterinarian. After all, traditional antibiotics and ointments didn't seem to be a cure. Our new vet felt that a better diet would help Stella build a better immune system for fighting off infections. He inquired rather tentatively if we might be willing to make her food.
We looked at one another and laughed. As individuals, we cook more than most folks, and as a unit, the amount of food we produce is a little insane. Of course we'd make our dog's food—she's part of the family, too! So although we did leave with antibiotics that day, we also left we a recipe for homemade dog food. And so our adventure began.
Stella's reaction was astonishing. The first time we sat a bowl of fresh food down in front of her, our well-trained girl hesitated to eat, thinking we had gone insane and mistakenly given her our own food. And, honestly, her food isn't that different from what we eat—a combination of brown and white rice, beans, and cooked vegetables—with uncooked ground beef added at the end since dogs and cats do gain heath benefits from raw meat.
Over the years, we have adapted the original vet recipe (Homemade Dog Food Recipe) as we discovered that Stella has distinct food preferences. She loves any cruceriferous vegetable like broccoli, cabbage, kale. She loves carrots and red peppers. She loves any kind of bean and adores peas, just like Nicole. She doesn't care for raw chicken or pork. She loves overripe raspberries! We do also occasionally give her appropriate table scraps as a treat meal.
Stella hasn't had an ear infection since she's been eating homemade food. She lost some extra weight she was carrying while eating more food by volume than she used to. Almost 14 years old, folks still ask if she is a puppy until they see her gray muzzle. Stella has a beautiful coat and remarkable energy and agility. And her obvious enjoyment in food makes the effort completely worth it.
As an added benefit, we never had to worry during the numerous pet food contamination scares of the past 5 years. We know and control every ingredient that goes into her food. If you look on the back of a regular dog food label, you'll notice many of the same mystery ingredients, additives and processing aids you encounter in human food.We don't want those things in our bodies, a child's body—why should we give it to our dog? Since we make large batches of food to freeze, we won't deny that it is a bit of an operation and it does require adequate freezer space to make an efficient use of time and ingredients.
Despite taking some time, making your own food is very economical, costing far less than premium/natural prepared foods. Although you are home for a half day, you'll have plenty of time to work on other projects—or take the dog for a walk!
See also:
Homemade Dog Treats We really, really like bacon. Because we spring for the humane, small farm kind, we save all our precious bacon fat. It adds smoky, meaty flavor to all sorts of foods, from sautéed greens to ginger cookies (no kidding). But despite our efforts to eliminate waste, we still had a surplus. Enter Dog Treats.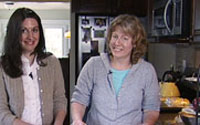 Lisa Bell is a freelance producer, writer and editor. She spent the first fifteen years of her working life as a pastry chef, recipe developer, test kitchen director, food stylist and print editor. She has also taught cooking classes, run a small cooking school, and worked as a food scientist. Nicole Rees currently works as a baking scientist. She is also a food writer and cookbook author specializing in baking science. Her most recent book Baking Unplugged, is filled with simple, scratch recipes that require no electric gadgets beyond an oven.