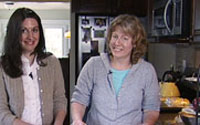 Nicole Rees and Lisa Bell
January 12, 2009; Cooking Up a Story is growing and we are in the midst of some major changes that we hope you will like. One of the changes we are building toward involves bringing on regular contributors; people of passion, knowledge and expertise within the food and sustainability movement to share their unique perspectives and information. The operative word is "share"; not a one-way communication, but a catalyst for rich interaction and discovery to benefit all of us.
In the coming weeks and months ahead, you will see a brand new Cooking Up A Story site, an increasing number of both guest contributors and regular contributors, and the best tools we can bring to the site to promote the sharing of ideas, communication and rich multimedia displays. The difference between guest and regular contributors when the new site goes live in February (stay tuned for the official launch date), the guest contributors will be chosen in part, by the feedback of the community. There will also be guest contributors who generously provide information (from time to time), but who do not wish to make regular contributions.
TwoJunes: Appearing Tuesday Mornings on Cooking Up a Story
Our first guest contributors are two women with diverse backgrounds in the food industry and have figured out how to balance their professional lives with their home life. They often prepare fresh wholesome meals, much of it from their own food garden. In the spirit of CUPS, rather than a formal introduction to the TwoJunes from us, they will introduce themselves shortly. Lisa Bell has been a pastry chef, recipe developer, food stylist, food scientist and now works as a freelance producer, writer and editor. Nicole Rees is a food writer and cookbook author (Baking UnPlugged), and currently works as a baking scientist.
In their own words, introducing the TwoJunes:
We cook every day, from scratch, a life that seems perfectly normal to us. Doesn't everyone tend a vegetable garden? Compost? Make stock and preserves? Save bacon and duck fat? Make dog food? Put up kumquats and crab apples? Well, no, apparently not. Jaws drop when we describe anything related to our kitchen life.
Don't get us wrong. Nicole has a weakness for cheap, artificially-flavored candy and Lisa has yet to meet a potato chip she didn't like. But…there are no cans of soup in our house, no prepared salad dressings, no microwave meals. Our vegetables are farmer's market, home grown or organic. We buy humane meat and cook with lesser known cuts, both to reduce costs and use the whole animal.
This hyper-domestic life, even with two of us, is a lot of work—and time. We spend hours doing dishes while staring out the kitchen window into the garden. The extra effort it takes to nourish our family and friends, and cook with seasonal ingredients and humane meats is our way of trying to change the world. Slowing down and paying attention has become a way of being, cooking as a spiritual practice that grounds our home and our lives.
We're two June Cleavers, keeping house together, and, yes, if you stop by, we'll offer you milk and cookies.